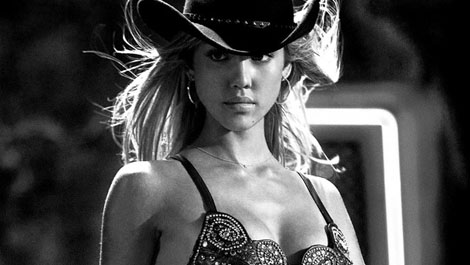 Jessica Alba was confirmed to be returning for Sin City: A Dame To Kill For quite some time ago, but perhaps more interestingly, she's now revealed that she'll have a lot more dancing to do second time out.

As you might remember, Alba's character Nancy Callahan, is an exotic dancer, with her Stetson-sporting bump – and-grind routine proving one of the highlights of the first film.
And since this next film will pick up before the events of the original, Callahan will be taking to the stage again, in a scene that's likely to become another fanboy favourite.
"I had to learn a bunch of dance sequences for it," reveals Alba, adding that she needed three months training to prepare for the role. "I do a lot more dancing in this one. It was kind of crazy. It was very, very difficult, and you'll see why."
Directed by Robert Rodriguez and co-starring Josh Brolin, Mickey Rourke and Joseph Gordon-Levitt, Sin City: A Dame To Kill For will open in the US on 4 October 2013.